STAND OF DANIEL & FLORENCE GUERLAIN CONTEMPORARY ART FOUNDATION
An integral part of the artistic scene since 2006, every year the Daniel and Florence Guerlain Foundation's Contemporary Drawing Prize honours a laureate from among the three artistsselected by a committee of seven experts.
The Prize concerns artists for whom drawing on paper or cardboard is a significant part of their work. The nominated artists can be of French or foreign nationality on condition that they reside in France or have a privileged cultural link through institutional exhibitions. All graphic mediums are accepted except for computer or mechanical processes.
The laureate is chosen by a jury of collectors which is renewed each year.
The Prize's endowment: 25 000 euros, including 15 000 euros for the laureate and 5 000 euros for each of the two other artists.
A work by the laureate is offered to a French institution by the Foundation.
Promote and highlight the place of contemporary drawing in art
12 editions, 36 artists distinguished since the Prize's creation 
Contemporary art collectors for more than 30 years, Daniel and Florence Guerlain rapidly developed a passion for drawing and have put together a collection of works from more than two hundred and forty artists of forty or so nationalities. The quality and wealth of this collection were revealed by their donation of 1200 dessins to the Centre Pompidouand dedicated exhibitions in Paris (470 works at the Centre Pompidou, 2013), in Libourne (100 drawings at the Musée des beaux-arts, Chapelle du Carmel, 2014), in Sweden (250 drawings at the Nordiska Akvarellmuseet, 2015-2016) and in Aalborg, Denmark (250 drawings at the Kunsten Museum, 2016).
But Daniel and Florence Guerlain have not contented themselves with putting together the most important private collection of contemporary drawings in France. As early as 2006, they created the Contemporary Drawing Prizewhich rapidly became a benchmark on the art scene. Why a prize dedicated to drawing? Quite simply because this couple of collectors wished to promote and highlight a medium embodying both great classical tradition and bold modernity. For a long time used as an instrument of apprenticeship or a means of study, little by little drawing acquired its own full-fledged status nowadays acknowledged by everyone. Considered to be the finest means of capturing fleeting intuition and the closest medium to thought, drawing allows for a freedom of expression that always goes straight to the essential. Then again, the diversity of the graphic means - pencil, charcoal, ink, wash tint, gouache, watercolour, pastel, felt tip or sanguine – is such that works on paper or cardboard, collages and wall drawings offer a limitless field of exploration for connoisseurs, ever more passionate and growing in number, of contemporary drawing.
The exceptional dedicated exhibition by the Centre Pompidou in 2017 of the 30 artists distinguished by the Prize illustrates the recognition of the quality and importance of the work accomplished by these great French art patrons. The first exhibition of the Drawing Prize abroad is presented in Germany at the Wilhelm-Hack-Museum, Ludwigshafen until the 24thof February 2019.
Laureates: Silvia Bächli, Switzerland (2007), Sandra Vásquez de la Horra, Chile (2009), Catharina Van Eetvelde, Belgium (2010), Marcel Van Eeden, Netherlands (2011), Jorinde Voigt, Germany (2012), Susan Hefuna, Germany (2013), Tomasz Kowalski, Poland (2014), Jockum Nordström, Sweden (2015), Cameron Jamie, United States (2016), Ciprian Muresan, Romania (2017), Mamma Andersson, Sweden (2018)
The actors in the 2019 Drawing Prize
The 2019 International Jury
Every year the Foundation gathers together a jury around Daniel and Florence Guerlain, exclusively comprised of French and foreign collectors given the task of choosing the winner.
Renewed for each edition, this year the jury is comprised of:
Shalva BREUS (Russia), Hélène GHEYSENS (France), Giovanni GIULIANI (Italy),
Heidi, SCHWAB (Switzerland), Maris VITOLS (Latvia), Anne-Marie PATRICOT (France), Benjamin PAULIN (France), Florence and Daniel GUERLAIN (France).
The Selection Committee
Since the creation of the prize, the selection of artists is made by a permanent committee of seven experts:
Emmanuelle BRUGEROLLES, Head Curator in charge of the collection of the Ecole Nationale Supérieure des Beaux-arts of Paris - Camille MORINEAU, Director of Exhibitions and Collections at the Monnaie de Paris - Lucia PESAPANE, Exhibition Curator and in charge of artistic programming at the Monnaie de Paris - Gabrielle SALOMON, Collector, former pupil of the Ecole du Louvre- Annabelle TÉNÈZE, Director of the Abattoirs de Toulouse- Florence and Daniel GUERLAIN, Collectors and Founders of the Prize.
NOMINATED ARTISTS - 2019 EDITION
The nominated artists for the 12th edition of The Daniel and Florence Guerlain Drawing Prize, on December 13th 2018 are:
Friedrich KUNATH
Born in 1974 | German
Represented in Paris by VHN Gallery
Claire MORGAN
Born in 1980 | Irish
Represented by Karsten Greve Gallery
Jérôme ZONDER
Born in 1974 | French
Represented by Nathalie Obadia Gallery
The announcement of the winner and the awarding ceremony took place at the Salon du Dessin on Thursday March 28th.
The 2019 Drawing Prize winner is Claire Morgan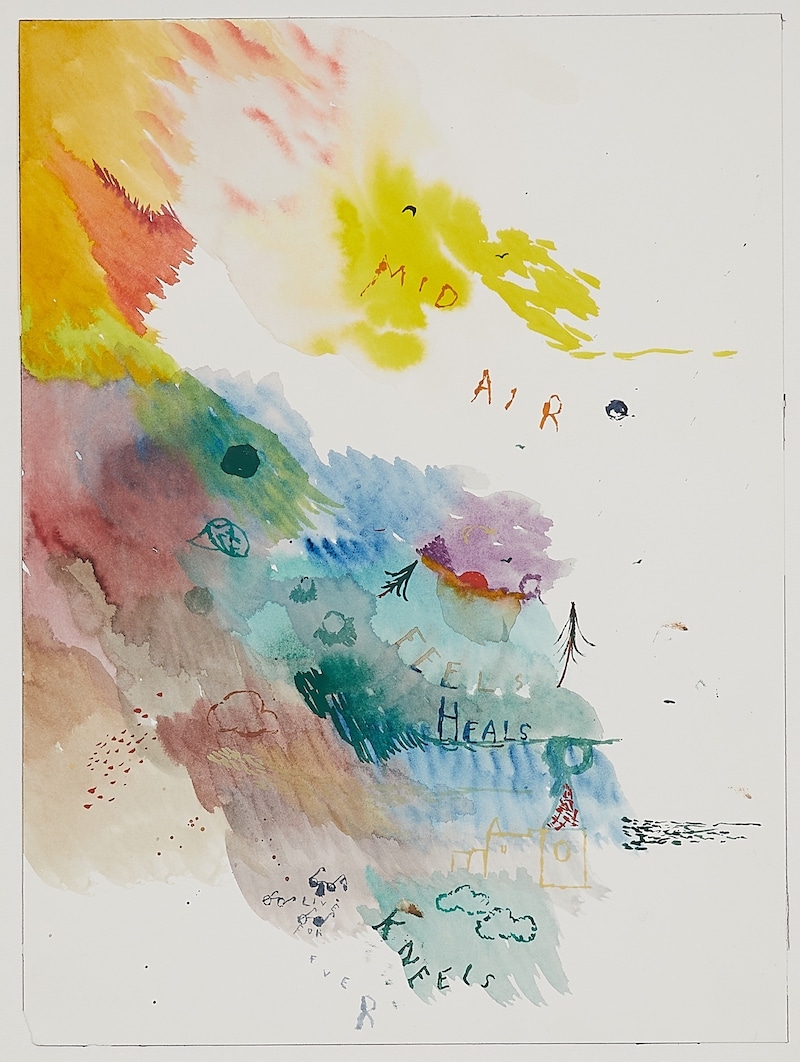 FRIEDRICH KUNATH
German artist, born in 1974 in Chemnitz, lives and works in Los Angeles.
Studied at Braunschweig University of Art.
Represented by the galleries: Blum & Poe (Los Angeles, New York, Tokyo) and VHN (Paris) and Tim Van Laere (Antwerp).
Through his works, not only drawings but also paintings and sculptures, Friedrich Kunath raises questions about distance and perception.  Born in East Germany, he constantly reinterprets the tradition of romanticism, landscape and human passions… As a child Friedrich Kunath was a huge fan of American films, music and skateboard culture. California was in the way of dreams for someone trained midway between the legacy of German Expressionism and the omnipresence of Joseph Beuys. Nowadays, in Los Angeles, he seeks to preserve a balance between his own images and some of his fully assumed appropriations.
Fascinated by American stereotypes, he mixes memories of cartoons and kitsch references (idyllic beaches and rainbows) with landscapes recalling Caspar David Friedrich or Albrecht Durer.
Extract from the text by Marie Maertens.
First exhibitions in 1994 at the Peters Barenbrock Galerie, Braunschweig, and in 1998 at the BQ Galerie, Cologne.  Solo show in 2014 at the Crédac, Ivry-sur-Seine. Today his work belongs to several collections: Carnegie Museum of Art, Centre Pompidou, Deste Foundation, Fondation Louis Vuitton, Frans Hals Museum, MoMA, Collection Pinault, Walker Art Center, Collection Florence et Daniel Guerlain…
Friedrich Kunath
Mid Air, 2018
Watercolour, ink on paper
30.5 x 22.9cm
Courtesy of the artist & VHN Gallery
©Diane Arques
CLAIRE MORGAN
2019 Drawing Prize winner
Irish artist, born in 1980 in Belfast, lives and works in Newcastle.
Studied at Northumbria University
Represented by the Karsten Greve Gallery (Paris, Cologne, St Moritz).
In an œuvre comprising works on paper, paintings and installations, Claire Morgan combines geometry and lyricism, two notions that may appear to contradict one another but which correspond to her determination to reconcile a certain radicalness and the vitality she observes in nature and in the animal kingdom.
In each work, Claire Morgan bears witness to this ambiguity, composed of an apparent gentleness, while the subject is deeply rooted in the issues at stake in today's world. Some have compared her work to mythology, recalling the wanderings of Icarus, for instance, in relation to the numerous birds she puts on display. Yet here it is more a question of observing the energy of animals moving in nature and of succeeding in "capturing a fleeting moment".  With this ever-growing bestiary, immobilised in her sculptures by taxidermy, Claire Morgan reflects on current ecological and political issues.
Extract from the text by Marie Maertens.
First solo show in 2004 at the Grosvenor Chapel, London. In 2009, her work has been shown in the Palais de Tokyo, in 2010 in the Museum of Arts and Design, New York, in 2015 in the Musée de la Chasse, Paris. Work of hers belongs to the collections of the Museum of Old and New Art, the Centre Pompidou, the Fondations Frances and Emerige, Cardiff University and the Florence and Daniel Guerlain collection, the Florence et Daniel Guerlain donation at the Musée national d'art moderne - Centre Pompidou …
Claire Morgan
Bearing, 2018
Watercolour, pastel on paper
28 x 37.1 cm
Courtesy Karsten Greve  Gallery
Cologne /Paris/ St Moritz
©Claire Morgan studio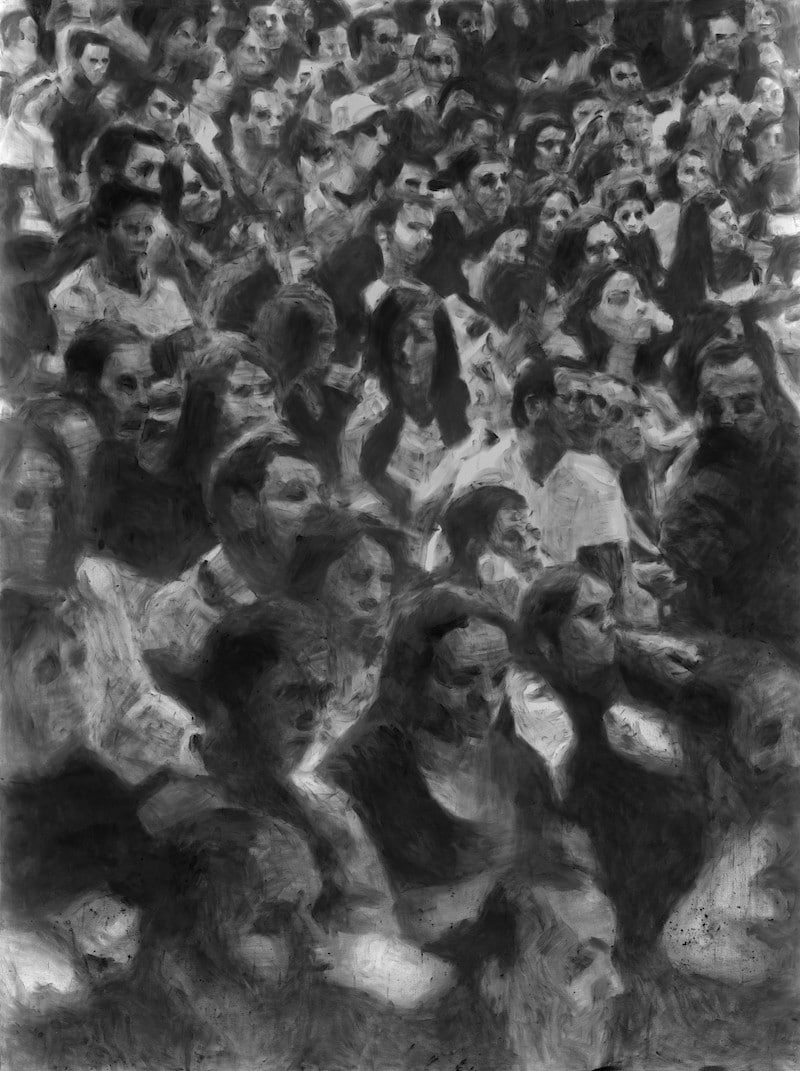 JÉRÔME ZONDER
French artist, born in 1974 in Paris, lives and works in Paris.
Studied at the Ecole nationale supérieure des Beaux-Arts de Paris.
Represented by Nathalie Obadia Gallery (Paris/Brussels).
Apart from potential fashion phenomena and debates on technique or virtuosity, since the early 2000s Jérôme Zonder has proclaimed his passion for drawing and the infinite effects he may lavish upon this genre.
Making no compromises, his dexterity pulls the spectator into the heart of his narrative. The large hyperrealist self-portrait of his early career had, incidentally warned the spectator. In the accompanying comic-strip speech bubble, he went on to explore a dark world of organic materials and children acting out some of the worst periods in history.
While history plays a dominant role in his work, especially World War II, which bears witness to paroxysms of horror he reminds us that he also belongs to a generation unable to ignore the conflicts of the 90s.  Having tackled different aspects of past history directly, he now positions himself on a path somewhere reality and the way in which it is recounted.
Extract from the text by Marie Maertens
First solo show in 2004 with Galerie Eva Hober, Paris. In 2015, his work has been shown at the Fondation Antoine de Galbert, the Drawing Centre Diepenheim, Netherlands and the Musée Tinguely, Basel. Zoderer is represented in the collections of the Fonds municipal de la Ville de Paris, the Fondation Emerige, Frac Picardie, the Istanbul Modern Museum and the Florence and Daniel Guerlain Collection.
Jérôme Zonder
Nous #1, 2018,
Charcoal powders and graphite on paper,   
200 x 150 cm
Courtesy of the artist
& Nathalie Obadia Gallery, Paris/Brussels
©Marc Domage
The Drawing Prize in figures
12 editions since its launch
The Contemporary Drawing Prize was launched in 2006. It became annual as from 2009.
3 artists nominated for each edition
The Foundation's drawing prize is reserved for French or overseas artists, living in France or not, who entertain a privileged cultural link with France through institutional exhibitions and for whom drawing* represents a significant part of their work, whatever their main mode of expression might be (painting, sculpture, photography, etc.).
*Any unique work made on paper or cardboard, using graphic means: pencil, charcoal, sanguine, ink, wash tint, gouache, watercolour, pastel, felt tip …, including collages and wall drawings and excluding computer and mechanical processes.
7 experts for the selection committee
The candidates are selected by a committee composed of seven experts.
9 collectors in the jury
The winner is chosen by a jury comprising nine members, including the two founders and seven private collectors, either French or foreign. The jury is renewed for each prize. (Vote by secret ballot).
1 laureate
The Drawing Prize is awarded to an artistic work. The laureate receives an endowment of 15.000 euros and the two other selected artists receive an endowment of 5.000 euros each. A work by the laureate is offered to a French institution by the Foundation.
The Drawing Prize's Sponsors
The Cercle des Amis of the Daniel & Florence Guerlain Contemporary Art Foundation
The Foundation's support group, the 'Cercle' is strongly committed to the prize that it assists at every stage.
NEUFLIZE OBC, www.neuflizeobc.fr
A benchmark Private Bank, the Banque Neuflize OBC strives to preserve artistic heritage in its capacity as a 'Grand Mécène', (Grand Patron of the Arts), a title awarded to it by the French Ministry of Culture and Communication. The Bank, which received the Oscar for cultural patronage in 2012, has supported the drawing prize since 2006.
ARTCURIAL, www.artcurial.com
The Auction House has been associated with the drawing prize since its creation. It staunchly supports the expansion of a prize that emphasizes and promotes the importance of a medium occupying a significantly growing place in contemporary art.
AXA ART, www.axa-art.fr
World leader in art insurance and the art of living, AXA ART assists collectors in matters of protection and conservation. Its support for the prize illustrates its unfailing commitment to those who choose to live out their passion.
FINANCE CONSULTANTS,www.financetop.com
Asset management advisors for more than 20 years with a clientele of executive directors and specialized in the international field.  The firm has supported the drawing prize from the outset and is proud of being one of its faithful sponsors.
GUERLAIN, www.guerlain.fr
Art is ubiquitous in the Guerlain family, which has always patronized the most avant-garde artists of their era. The contemporary drawing prize created by Daniel and Florence Guerlain illustrates the creative audacity of this famous brand.
VOISIN CONSULTING LIFE SCIENCES,www.voisinconsulting.com
A consulting firm for the development of pharmaceutical, biotech and medtech products as well as regulatory strategy, Voisin Consulting helps innovative enterprises optimize the value of their product.  It operates in Europe (France, United Kingdom and Switzerland), the United States and India.
Partners
Le Salon du Dessin, www.salondudessin.com
A world-famous eventand benchmark in the world of collection drawing
Beaux-Arts de Paris, www.beauxartsparis.com
Successor to the Académie royale de peinture et de sculpture founded by Louis XIV, the Ecole Nationale Supérieure des Beaux-Arts de Paris plays a vital role on the artistic and cultural scene
Champagne Bruno Paillard, www.champagnebrunopaillard.com
The youngest of the great Champagne Houses
Château Seguin, www.chateauseguin.com
Vodka Beluga, www.vodka-beluga.com