DANIEL & FLORENCE GUERLAIN
CONTEMPORARY ART FOUNDATION
An integral part of the artistic scene since 2006, every year the Daniel and Florence Guerlain Foundation's Contemporary Drawing Prize honours a laureate from among the three artists selected by a committee of seven experts.
The Prize concerns artists for whom drawing on paper or cardboard is a significant part of their work. The nominated artists can be of French or foreign nationality on condition that they reside in France or have a privileged cultural link through institutional exhibitions. All graphic mediums are accepted except for computer or mechanical processes.
The laureate is chosen by a jury of collectors which is renewed each year.
The Prize's endowment: 25 000 euros, including 15 000 euros for the laureate and 5 000 euros for each of the two other artists.
A work by the laureate is offered to a French institution by the Foundation.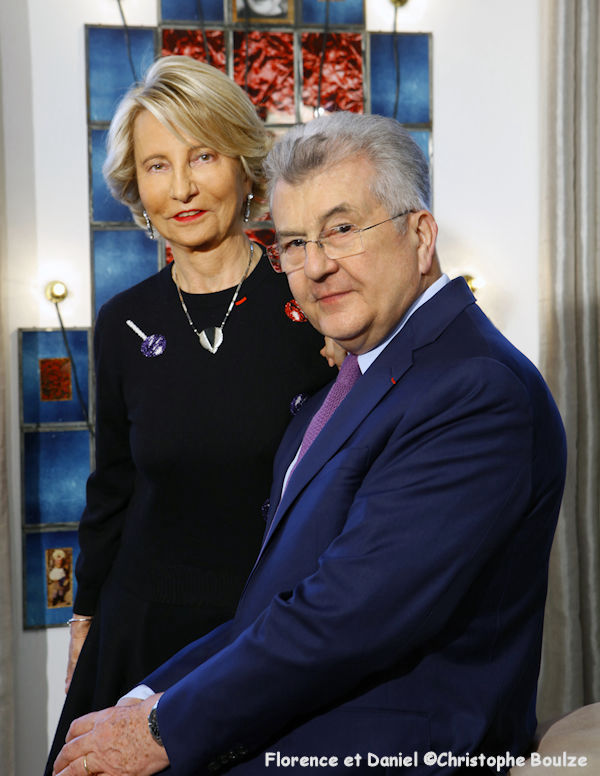 Promote and highlight the place of contemporary drawing in art
Contemporary art collectors for more than 30 years, Daniel and Florence Guerlain rapidly developed a passion for drawing and have put together a collection of works from more than two hundred and forty artists of forty or so nationalities. The quality and wealth of this collection were revealed by their donation of 1200 drawings to the Centre Pompidou and  dedicated exhibitions in Paris (470 works at the Centre Pompidou, 2013), in Libourne (100 drawings at the Musée des beaux-arts, Chapelle du Carmel, 2014), in Sweden (250 drawings at the Nordiska Akvarellmuseet, 2015-2016) and in Aalborg, Denmark (250 drawings at the Kunsten Museum, 2016).
But Daniel and Florence Guerlain have not contented themselves with putting together the most important private collection of contemporary drawings in France. As early as 2006, they created the Contemporary Drawing Prizewhich rapidly became a benchmark on the art scene. Why a prize dedicated to drawing? Quite simply because this couple of collectors wished to promote and highlight a medium embodying both great classical tradition and bold modernity. For a long time used as an instrument of apprenticeship or a means of study, little by little drawing acquired its own full-fledged status nowadays acknowledged by everyone. Considered to be the finest means of capturing fleeting intuition and the closest medium to thought, drawing allows for a freedom of expression that always goes straight to the essential. Then again, the diversity of the graphic means - pencil, charcoal, ink, wash tint, gouache, watercolour, pastel, felt tip or sanguine – is such that works on paper or cardboard, collages and wall drawings offer a limitless field of exploration for connoisseurs, ever more passionate and growing in number, of contemporary drawing.
The exceptional dedicated exhibition by the Centre Pompidou in 2017 of the 30 artists distinguished by the Prize illustrates the recognition of the quality and importance of the work accomplished by these great French art patrons. The first exhibition of the Drawing Prize abroad was presented in Germany at the Wilhelm-Hack-Museum, Ludwigshafen until the 24th of February 2019.
The actors in the 2023 Drawing Prize
The 2023 International Jury
Every year the Foundation gathers together a jury around Daniel and Florence Guerlain, exclusively comprised of French and foreign collectors given the task of choosing the winner.
Renewed for each edition, this year the jury is comprised of:
Karin Dammann, Swiss,
Antoine de Galbert, French,
Gustavo Giacosa, Italian-Argentine,
Sébastien Lebrec, French,
Kalle Levon, American,
Laurence Poirel, French,
Giovanni Springmeier, German,
Florence & Daniel Guerlain, French.
The Selection Committee
Since the creation of the prize, the selection of artists is made by a permanent committee of six experts:
Emmanuelle Brugerolles, Honorary General Curator of Heritage
Yuan-Chih Cheng, adviser to the Department of Artistic Creation at the French Ministry of Culture
Hervé Halgand, collector
Lucia Pesapane, exhibition curator
Florence and Daniel Guerlain, collectors and founders of the Drawing Prize.
Laureates
Silvia Bächli, Switzerland (2007), Sandra Vásquez de la Horra, Chile (2009), Catharina Van Eetvelde, Belgium (2010), Marcel Van Eeden, Netherlands (2011), Jorinde Voigt, Germany (2012), Susan Hefuna, Germany (2013), Tomasz Kowalski, Poland (2014), Jockum Nordström, Sweden (2015), Cameron Jamie, United States (2016), Ciprian Muresan, Romania (2017), Mamma Andersson, Sweden (2018), Claire Morgan, Irland (2019), Juan Uslé, Spain (2020), Françoise Pétrovitch, France (2021), Olga Chernysheva, Russia (2022).
NOMINATED ARTISTS - 2023 EDITION
The Foundation's 2023 Drawing Prize is dedicated to Outsider Art.
The nominated artists for the 16th edition of The Daniel and Florence Guerlain Drawing Prize, on December 15th 2022 are:
Pascal LEYDER, belgian artist born in 1988
Mehrdad Rashidi, iranian artist born in 1963
Melvin Way, american artist born in 1954
Why a prize dedicated to the Art Brut or Outsider Art movement?
"It's not simply a passing fancy. We have been looking at these artists who cultivate a sense of drawing, of line, and a need to communicate their vision of the world in a totally unique manner for a long time. Moreover, we have already purchased pieces by Luboš Plný, who works with absolute precision and rigour, questioning his relationship with language and the human body. This merges with our passion for drawing representing a primal gesture, completely magnified by these artists. It is often their principal means of expression, devoid of filters, and one may consider that the same intensity emanated from the art of prehistoric men. Likewise, through their obsessive, compulsive character, the three nominees bear witness to a rare sensibility." (Extract from the interview with Marie Maertens).
He arrived at La "S" Grand Atelier, in Vielsalm, Belgium, in 2008, following a school course and now regularly attends its art workshop. He also participates in the "Choolers Noise Project", in which he draws live, accompanied by noisy music.
Admiring the world of cartography and other forms of pop art illustrations, Pascal Leyder offers his own very personal interpretation of them, combining moments from his private life with a vision of the universe outside of time.
To say that drawing is as vital as breathing to an artist may sound like a cliche, but for Leyder it is true. Everyday, at home or at La "S" Grand Atelier, where he is a resident, he tirelessly covers large sheets of paper using felt-tip pens, swiftly and insatiably. Inspired by multiple works, maps or plans found in the library of La "S" Grand Atelier - Centre d'Art Brut & Contemporain, he uses them as a source or matrix for invitations to a journey. He may add éléments from his daily life and emotions that nourish him, including those stimulated by friendship and love. The first draft is always the last. The artist never reworks or corrects his drawings. He covers the entire surface of his support abundantly, multiplying the lines or magnifying his own signature, with which he occasionally begins to work.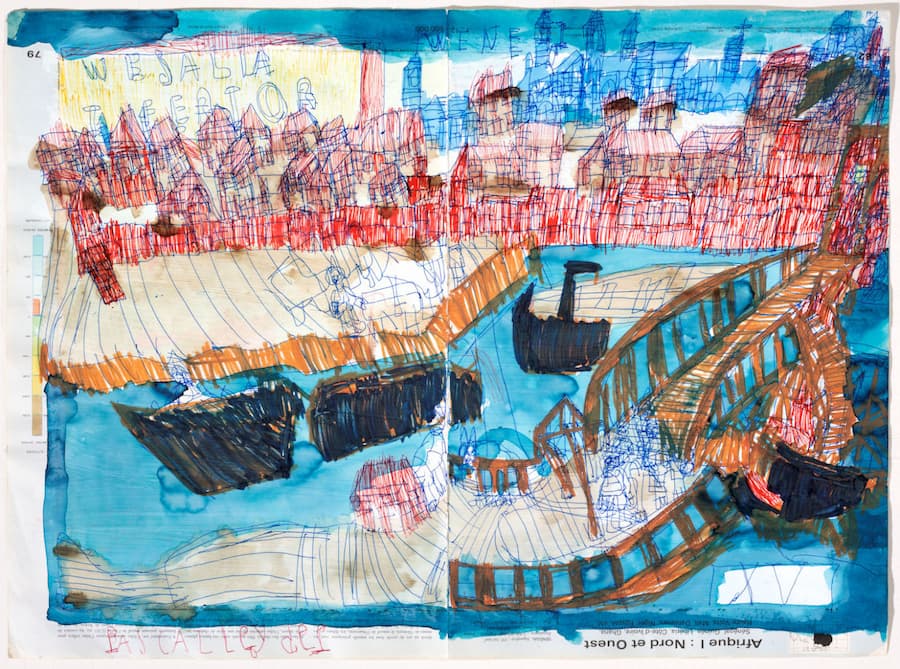 Sans titre,
techniques mixtes sur papier
40 x 53 cm
Courtesy Escale Nomade, Paris
©André Morin
Iranian artist, born 1963 in Sari, he left Iran at the age of 20, crossed Pakistan and Afghanistan, before arriving in Russia where he studied journalism.
He moved to Germany in 2006 and now lives and works near Düsseldorf. Although he drew as a child, he only started drawing again in 2006. In 013, he received the Grand Prix Award for Marginal Art at the 16th Belgrade Biennale of Naive and Marginal Art and will will participate in the 3rd Triennial in Jagodina (Serbia).
Represented by Henry Boxer Gallery (Richmond).
Through figures incessantly multiplied and evocations of landscapes or seascapes, Mehrdad Rashidi conjures up memories of his native Iran, mixed with poems and musical references, hovering between hope and nostalgia. At first glance, the subjects handled are not immediately evident, even though one sees several faces, of veiled women in particular, as well as hybrid creatures, birds, views and architecture.
Rashidi uses tiny unbroken circles forming lines to build his universes, not only working in small formats but also stretches of paper up to several metres wide. Thus, as in a story within a story or a contemporary game of consequences, he charts a narrative in his flowery language, gradually unfolding the sheet of paper. Other supports include pages from books or maps, which act as hosts for the themes that provide the keys to the artist's life history. Iran, the land that he fled so long ago, remains omnipresent in his thoughts.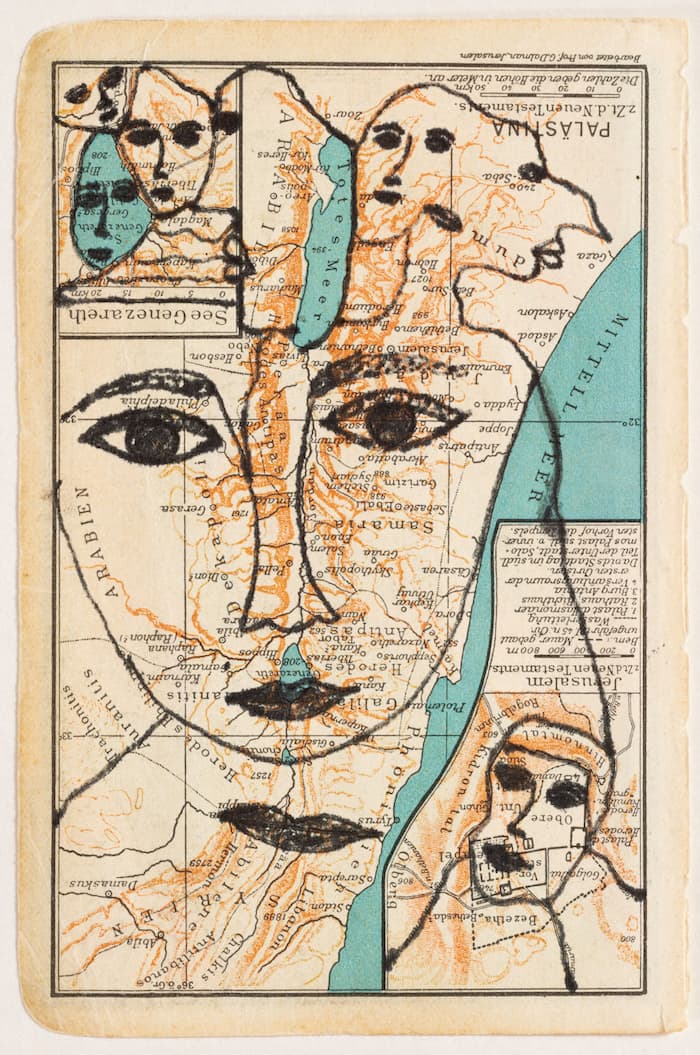 Sans titre
Techniques mixtes sur papier de récupération
11.8 x 7.8
Courtesy Henry Boxer Gallery, Richmond
©André Morin
American artist, born in 1954 in South Carolina, Melvin Way grew up in Brooklyn under the care of a relative, where he began his studies at the Technical Career Institute, which he did not pursue.
After a chaotic career, he began drawing in the late 1980s. Today, he lives in Brooklyn.
Represented by the galleries Andrew Edlin (New York) and Christian Berst (Paris).
Passionate about science and mathematical formulae, Melvin Way observes and analyses humanity, producing numerous talismans that protect him throughout his life. Following Melvin Way's career means delving into the matrix of New York… plunging into Brooklyn of the 1960s, where he grew up, before landing on Ward's Island, where he was homeless for a while, until he took refuge in a psychiatric hospital. This was where he met artist and workshop leader Andrew Castrucci, who encouraged him to explore his emerging creativity.
He gradually developed a universe composed of thousands of bits of paper covered in writing, letters or numbers, most often in black and white, but also in blue, green, red or pink. Over the past few years, he has taken increasingly more liberties both with colour, using felt-tip pens or ink, and the notion of space, lightening his symbols still drawn on very small formats.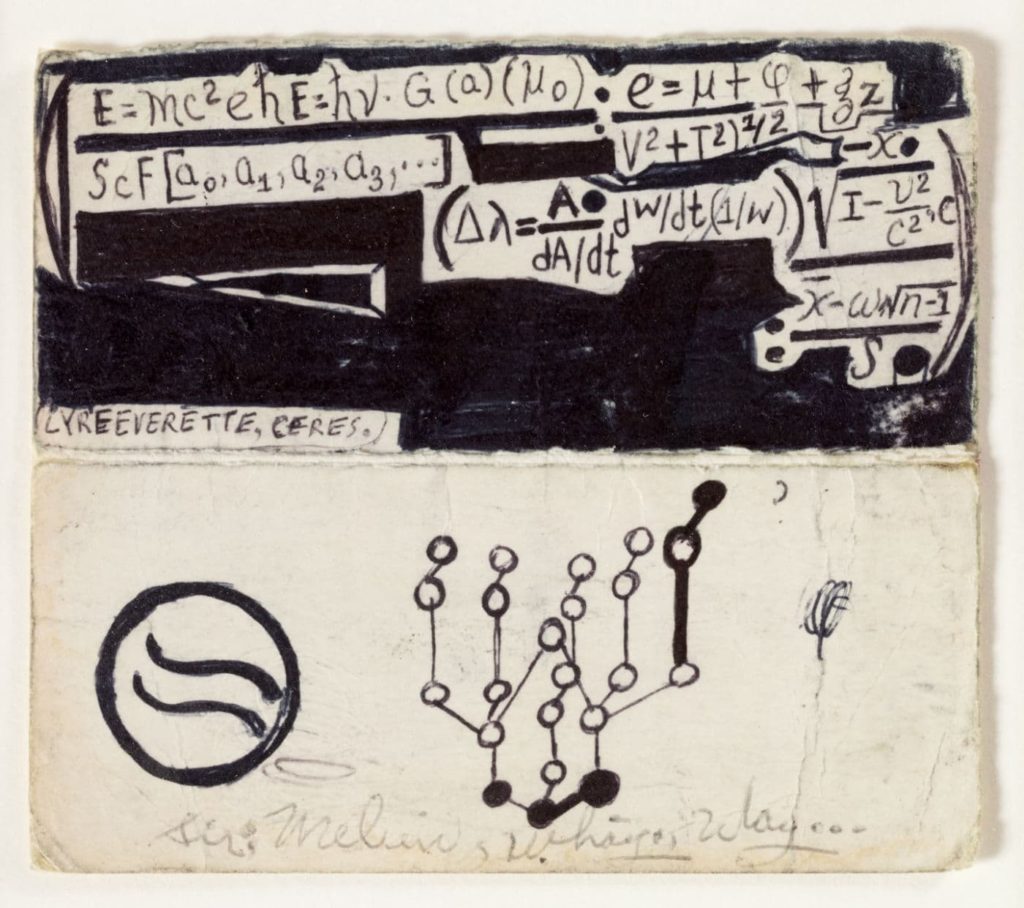 Lyreeverette, n.d.
stylo à bille sur papier
11,4 x 10,2 cm
Courtesy Andrew Edlin Gallery, New York
©André Morin
FIGURES, SPONSORS & PARTNERS
The Drawing Prize in figures
16 editions since its launch
The Contemporary Drawing Prize was launched in 2006. It became annual as from 2009.
3 artists nominated for each edition
6 experts for the selection committee
9 collectors in the jury
The winner is chosen by a jury comprising nine members, including the two founders and seven private collectors, either French or foreign.
The jury is renewed for each prize. (Vote by secret ballot).
1 laureate
The Drawing Prize is awarded to an artistic work. The laureate receives an endowment of 15.000 euros and the two other selected artists receive an endowment of 5.000 euros each. A work by the laureate is offered to a French institution by the Foundation.
The Drawing Prize's Sponsors
The Cercle des Amis of the Daniel & Florence Guerlain Contemporary Art Foundation
The Foundation's support group, the 'Cercle' is strongly committed to the prize that it assists at every stage.
La Maison Guerlain, www.guerlain.fr
Neuflize OBC, www.neuflizeobc.fr
Artcurial, www.artcurial.com
Artprice by ArtMarket.com
Voisin Consulting Life Sciences, www.voisinconsulting.com
Groupe Élysées Monceau, www.elysees-monceau.fr
Groupe Pasteur Mutualité, www.gpm.fr
PatrimOne assurances
Arte Generali
Partners
Le Salon du Dessin - Les Beaux-Arts de Paris -  La Maison  Ruinart - Dynaprint