STAND OF DANIEL & FLORENCE GUERLAIN CONTEMPORARY ART FOUNDATION
An integral part of the artistic scene since 2006, every year the Daniel and Florence Guerlain Foundation's Contemporary Drawing Prize honours a laureate from among the three artists selected by a committee of seven experts.
The Prize concerns artists for whom drawing on paper or cardboard is a significant part of their work. The nominated artists can be of French or foreign nationality on condition that they reside in France or have a privileged cultural link through institutional exhibitions. All graphic mediums are accepted except for computer or mechanical processes.
The laureate is chosen by a jury of collectors which is renewed each year.
The Prize's endowment: 25 000 euros, including 15 000 euros for the laureate and 5 000 euros for each of the two other artists.
A work by the laureate is offered to a French institution by the Foundation.
Promote and highlight the place of contemporary drawing in art
13 editions, 37 artists distinguished since the Prize's creation 
Contemporary art collectors for more than 30 years, Daniel and Florence Guerlain rapidly developed a passion for drawing and have put together a collection of works from more than two hundred and forty artists of forty or so nationalities. The quality and wealth of this collection were revealed by their donation of 1200 drawings to the Centre Pompidou and  dedicated exhibitions in Paris (470 works at the Centre Pompidou, 2013), in Libourne (100 drawings at the Musée des beaux-arts, Chapelle du Carmel, 2014), in Sweden (250 drawings at the Nordiska Akvarellmuseet, 2015-2016) and in Aalborg, Denmark (250 drawings at the Kunsten Museum, 2016).
But Daniel and Florence Guerlain have not contented themselves with putting together the most important private collection of contemporary drawings in France. As early as 2006, they created the Contemporary Drawing Prizewhich rapidly became a benchmark on the art scene. Why a prize dedicated to drawing? Quite simply because this couple of collectors wished to promote and highlight a medium embodying both great classical tradition and bold modernity. For a long time used as an instrument of apprenticeship or a means of study, little by little drawing acquired its own full-fledged status nowadays acknowledged by everyone. Considered to be the finest means of capturing fleeting intuition and the closest medium to thought, drawing allows for a freedom of expression that always goes straight to the essential. Then again, the diversity of the graphic means - pencil, charcoal, ink, wash tint, gouache, watercolour, pastel, felt tip or sanguine – is such that works on paper or cardboard, collages and wall drawings offer a limitless field of exploration for connoisseurs, ever more passionate and growing in number, of contemporary drawing.
The exceptional dedicated exhibition by the Centre Pompidou in 2017 of the 30 artists distinguished by the Prize illustrates the recognition of the quality and importance of the work accomplished by these great French art patrons. The first exhibition of the Drawing Prize abroad was presented in Germany at the Wilhelm-Hack-Museum, Ludwigshafen until the 24th of February 2019.
The actors in the 2020 Drawing Prize
The 2020 International Jury
Every year the Foundation gathers together a jury around Daniel and Florence Guerlain, exclusively comprised of French and foreign collectors given the task of choosing the winner.
Renewed for each edition, this year the jury is comprised of:
Clifford DAVIS (United States)
Davíd SAMUELSSON (Iceland)
Carlos USANDIZAGA (Spain)
Carlo BOYL DI PUTFIGARI (Italy)
Béatrice CHARON (France)
Thierry GONTIER (France)
Hervé HALGAND (France)
Florence and Daniel GUERLAIN (France)
The Selection Committee
Since the creation of the prize, the selection of artists is made by a permanent committee of seven experts:
Emmanuelle BRUGEROLLES, Head Curator in charge of the collection of the Ecole Nationale Supérieure des Beaux-arts of Paris
Christophe LERIBAULT, heritage curator, director of the Musée des Beaux-Arts de la Ville de Paris - Petit Palais
Camille MORINEAU, conservator and exhibition curator
Lucia PESAPANE, conservator and exhibition curator
Gabrielle SALOMON, Collector, former pupil of the Ecole du Louvre
Florence and Daniel GUERLAIN, Collectors and Founders of the Prize.
Laureates
Silvia Bächli, Switzerland (2007), Sandra Vásquez de la Horra, Chile (2009), Catharina Van Eetvelde, Belgium (2010), Marcel Van Eeden, Netherlands (2011), Jorinde Voigt, Germany (2012), Susan Hefuna, Germany (2013), Tomasz Kowalski, Poland (2014), Jockum Nordström, Sweden (2015), Cameron Jamie, United States (2016), Ciprian Muresan, Romania (2017), Mamma Andersson, Sweden (2018), Claire Morgan, Irland (2019).
NOMINATED ARTISTS - 2020 EDITION
The nominated artists for the 13th edition of The Daniel and Florence Guerlain Drawing Prize, on December 12th 2019 are:
Callum INNES
Born in 1962 | Scottish
Represented by the galleries: Frith Street Gallery (London), Ingleby (Edimburg), Kerling (Dublin), i8 Gallery (Reykjavik) and Sean Kelly (New York).
Florian PUMHÖSL
Born in 1971 | Austrian
Represented by the galleries Meyer Kainer (Vienna), Buchholz (Cologne) and Miguel Abreu (New York).
Juan USLÉ
Born in 1954 | Spanish
Represented by the galleries Lelong (Paris, New York), Frith Street Gallery (London) and Cheim & Read(New York).
The announcement of the winner and the awarding ceremony will take place at the Salon du Dessin on Thursday March 26th 2020.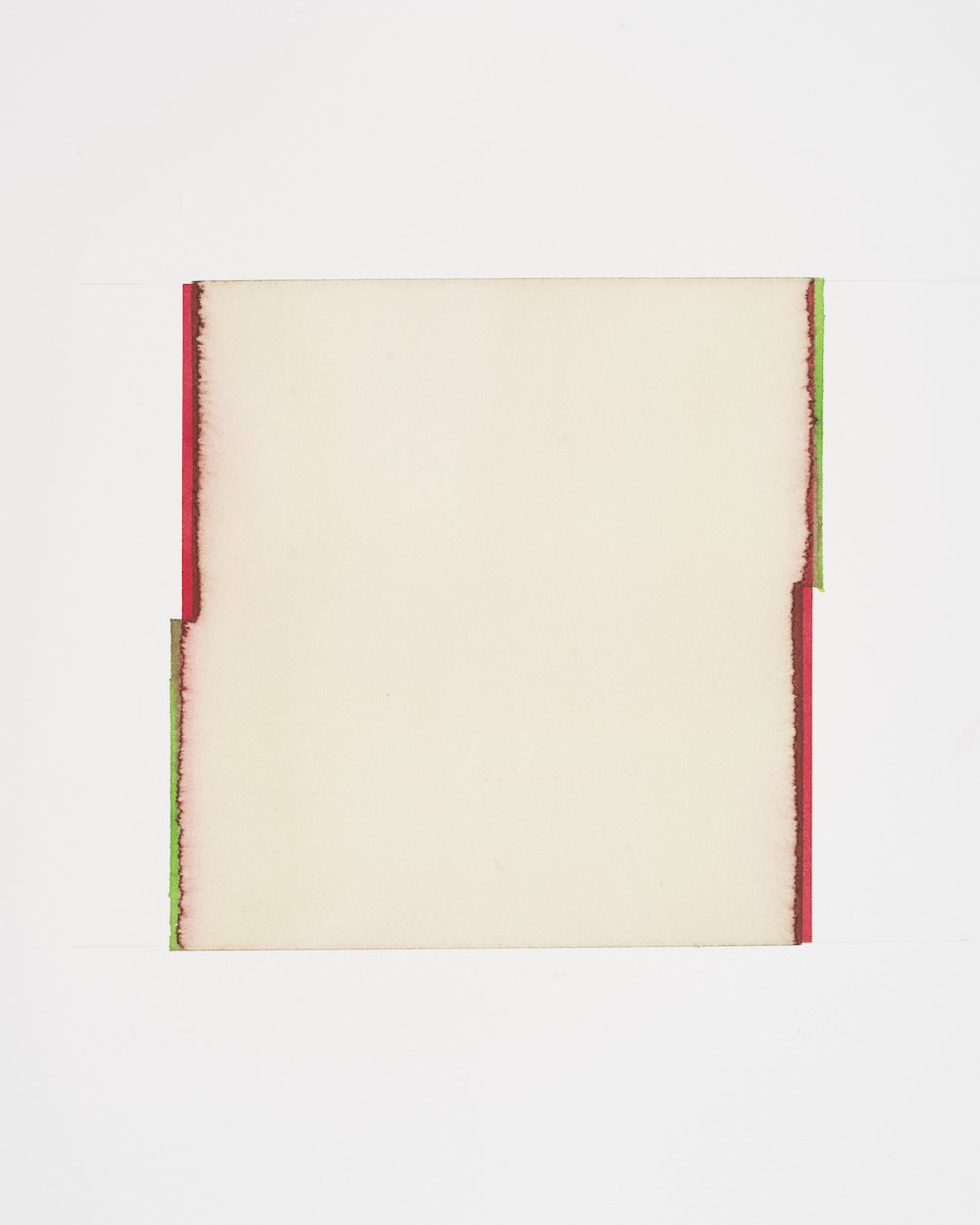 CALLUM INNES
Scottish artist, born in 1962 in Edinburgh where he lives and works.
Studied at Gray's School of Art in Aberdeen, then at the Edinburgh College of Art.
Represented by the galleries: Frith Street Gallery (London), Ingleby (Edimburg), Kerling (Dublin), i8 Gallery (Reykjavik) and Sean Kelly (New York).
With his watercolours and paintings in delicate shades, Callum Innes perpetuates the idea of art that combines notions of spirituality and nihilism, in that his painterly approach stems from a stripping, or even an erasure, of his own gestures. In his early career, Innes was in fact a figurative painter, at a time when tutelary artists were called Georg Baselitz, Markus Lüpertz or Jörg Immendorff, and were renowned for their virulent expressionist approach that captivated the onlooker in a few seconds. Innes made a stand against this obvious art form, preferring "that which takes a while to be discovered and is not immediately understood." He feels the need to distance himself from his initial expressive impulse, so that the work can speak for itself and his images can gradually dissolve into the heart of the paper or into one another. The work then acquires its independence and asserts itself in several different phases. The process of creation is always relatively swift, but is followed by the time the work spends in the studio: sometimes a few months, but sometimes several years, when the artist may rework it or set it aside...
Extract from the text by Marie Maertens.
He began exhibiting his works in the mid-1980s and was nominated for the Turner Prize in 1995. He took part in the Liverpool Biennial 2004 and was commissioned by the Edinburgh Art Festival 2012 to illuminate Regent Bridge.
His works feature in the collections of the Guggenheim, New York; Tate Britain, London; the Scottish National Gallery of Modern Art, Edinburgh; the Musée National d'Art Moderne-Centre Pompidou, Paris; and Florence & Daniel Guerlain, Paris...
Callum Innes
Ruby Red / Sap Green, 2018
Watercolour on Canson Heritage® 640gsm paper
56 x 76 cm
Courtesy the artist & Frith Street Gallery, London
FLORIAN PUMHÖSL
Austrian artist, born in 1971 in Vienna where he lives and works.
Studied at the Höhere Graphische Bundes-Lehr-und Versuchsanstalt, then at the University of Applied Arts in Vienna,
Represented by the galleries Meyer Kainer (Vienna), Buchholz (Cologne) and Miguel Abreu (New York).
In precise lines, at once supple and sensual, Florian Pumhösl pursues the story of abstraction and minimalism. His manner of drawing (together with his painting, sculpture and videos) is based on repetition and exercises in which he questions the very essence and reality of an artwork.
From his early career onwards, Pumhösl undertook to use abstraction as an overall theme. Twentieth- century modernism thus provided him with a vocabulary for which he decided to act as a witness or a go- between. Apart from these formal references, he draws on concrete subjects such as the salt evaporation ponds in Guérande (western France), for their compositions, medieval illustrations of the Torah, for their pre-geographical layout, or other maps and textiles, which, in his eyes, create a strong visual impact. He then develops his own geometry, in the freedom that often follows impeccable knowledge, questioning the possibility of pictorialness in our time. His lines, drawn with natural grey pigments or in Crayola red crayon, constantly give rise to new narratives or pictorial explorations. Not to mention that this medium allows him to convey an implicit, yet very real, softness and sensuality.
Extract from the text by Marie Maertens.
Since the early 2000s, he has exhibited in France and abroad, at the 50th Venice Biennial (2003), the São Paulo Biennial (2006), Documenta 12, Kassel (2007), the 7th Lyon Biennial (2012), and the Kyoto International Festival of Contemporary Culture (2015).
His works feature in the collections of the mumok, Vienna; the MACBA, Barcelona; the MOCA, Los Angeles; the Reina Sofia, Madrid; the Museum Ludwig, Cologne; and the Tate Gallery, London...
Florian Pumhösl
Study for Saltern 7, 2019
Acrylic on aluminium paper
22.8 x 15.2 cm
©Courtesy Miguel Abreu Gallery, New York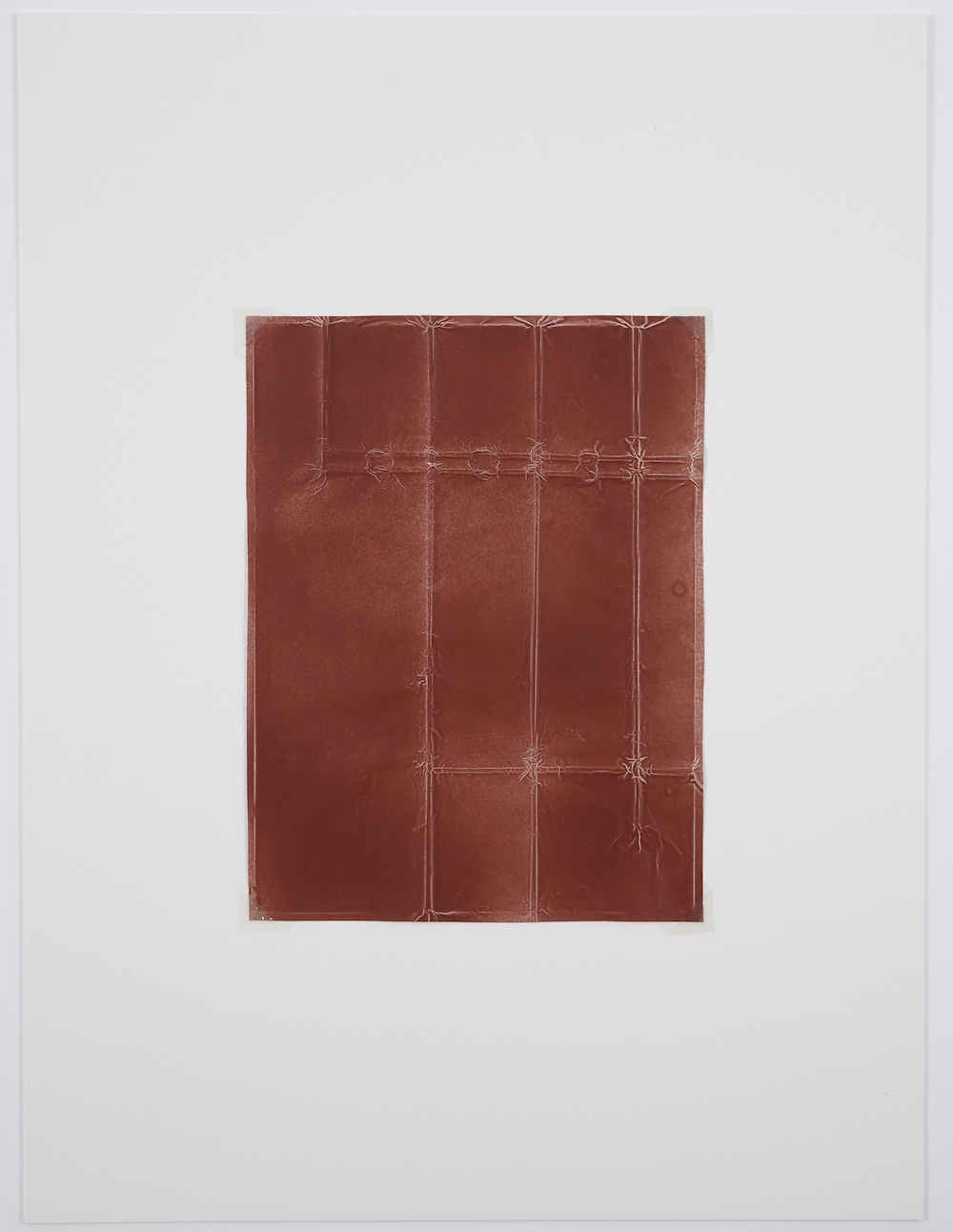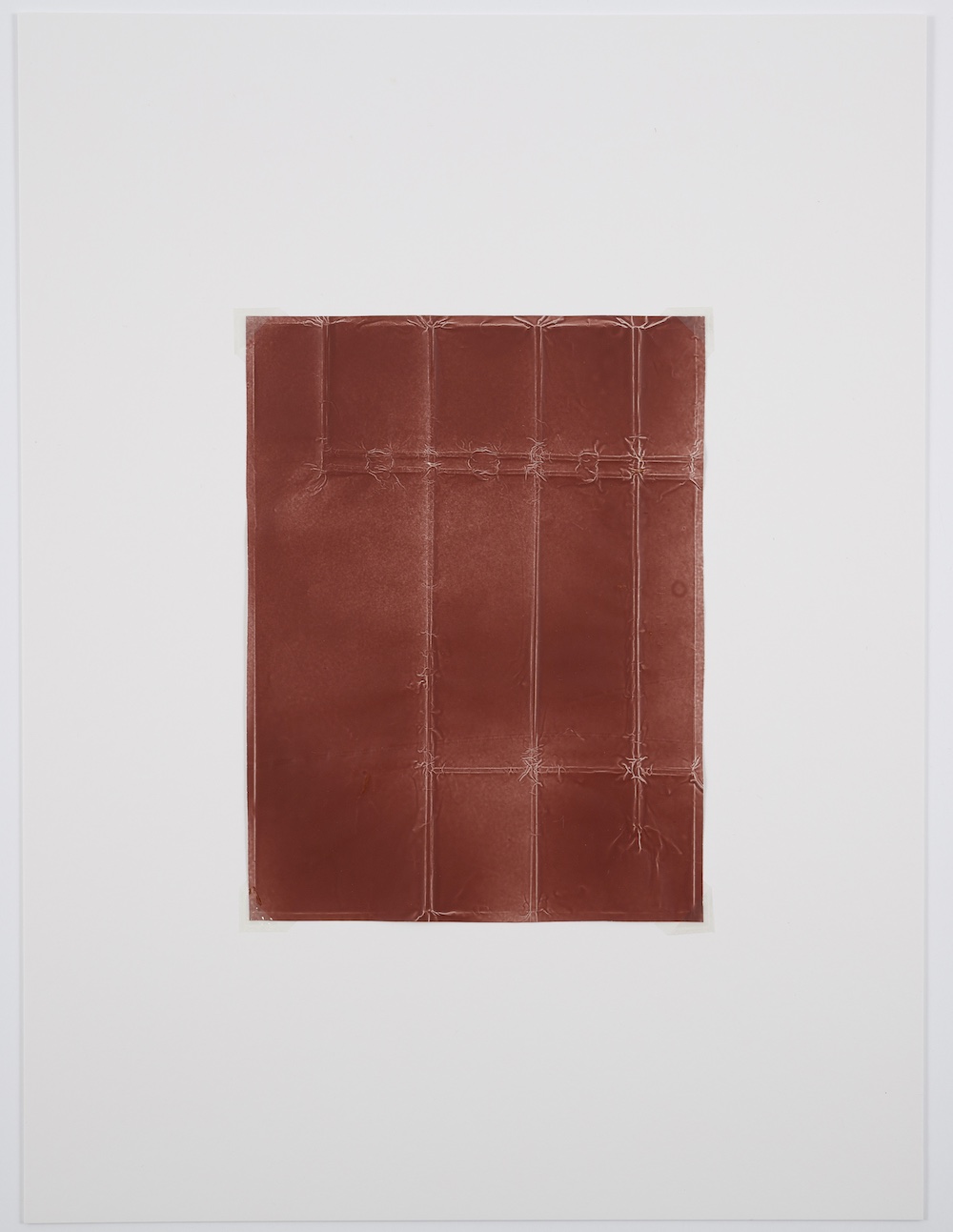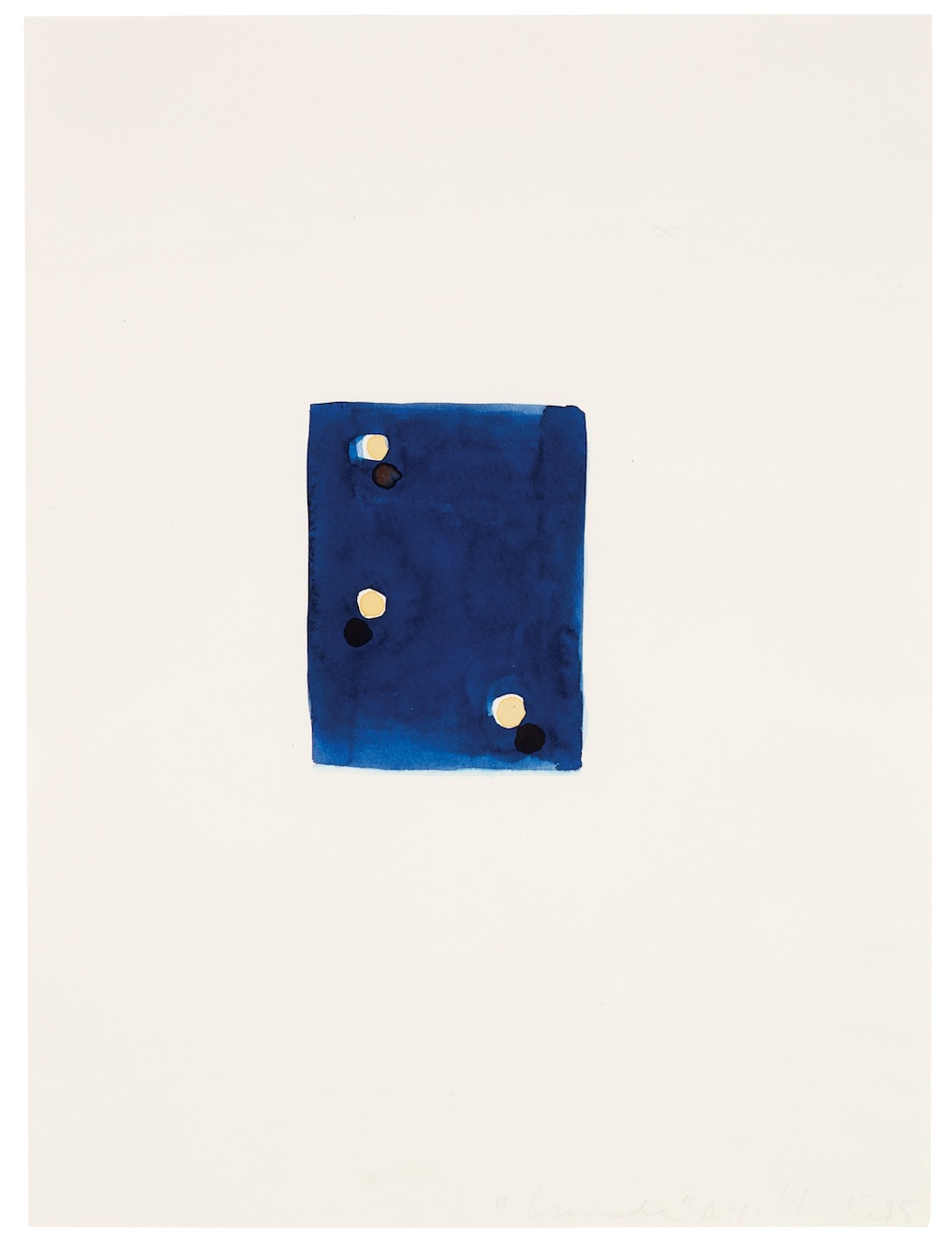 JUAN USLÉ
Spanish artist, born in 1954, lives and works in New York.
Studied at the Real Academia de Bellas Artes de San Carlos, Valencia,
Represented by the galleries Lelong (Paris, New York), Frith Street Gallery (London) and Cheim & Read(New York)
Juan Uslé's watercolours – gradations of colour and plays of transparency – effectively bring together the history of abstraction and memories of landscapes. Drawing, painting, repeating the gesture...
Juan Uslé develops his subtle shades of blues, greens, greys and blacks, blended with the occasional yellow or red, by listening to the beating of his heart and his breathing. "I analyse the reaction of one colour to another," he says, "and decide on their transparency or density by applying numerous variations to my lines." He uses words such as vibrations sounds, flow or fluidity, and when asked which were his favourite watercolours, he replied: "the most dynamic, expressive and in a sense musical. His work focuses on specific movements, creating rhythm and plays on light. The different surfaces seem to move backwards and forwards, giving rise to a toing and froing within the work and a new spatial form that redefines conventional perspective. Juan Uslé produces drawings in a ritualized manner, which makes him feel at once disconnected and totally bound to the world.
Extract from the text by Marie Maertens
His works have been exhibited in international museums and institutions. He took part in the Istanbul Biennial (1989), Documenta IX, in Kassel (1992), and the Venice Biennial (2005).
His works now feature in the collections of the Musée National d'Art Moderne, Paris; the Reina Sofia, Madrid; the MACBA, Barcelona; Tate Britain, London; S.M.A.K., Ghent; and the MUDAM, Luxembourg.
Juan Uslé, Lunada, 1995
Watercolour on paper
30,5 x 22,9 cm
©Juan Uslé/Courtesy Galerie Lelong&Co
The Drawing Prize in figures
13 editions since its launch
The Contemporary Drawing Prize was launched in 2006. It became annual as from 2009.
3 artists nominated for each edition
7 experts for the selection committee
The candidates are selected by a committee composed of seven experts.
9 collectors in the jury
The winner is chosen by a jury comprising nine members, including the two founders and seven private collectors, either French or foreign.
The jury is renewed for each prize. (Vote by secret ballot).
1 laureate
The Drawing Prize is awarded to an artistic work. The laureate receives an endowment of 15.000 euros and the two other selected artists receive an endowment of 5.000 euros each. A work by the laureate is offered to a French institution by the Foundation.
The Drawing Prize's Sponsors
The Cercle des Amis of the Daniel & Florence Guerlain Contemporary Art Foundation
The Foundation's support group, the 'Cercle' is strongly committed to the prize that it assists at every stage.
NEUFLIZE OBC, www.neuflizeobc.fr
A benchmark Private Bank, the Banque Neuflize OBC strives to preserve artistic heritage in its capacity as a 'Grand Mécène', (Grand Patron of the Arts), a title awarded to it by the French Ministry of Culture and Communication. The Bank, which received the Oscar for cultural patronage in 2012, has supported the drawing prize since 2006.
ARTCURIAL, www.artcurial.com
The Auction House has been associated with the drawing prize since its creation. It staunchly supports the expansion of a prize that emphasizes and promotes the importance of a medium occupying a significantly growing place in contemporary art.
AXA ART, www.axa-art.fr
World leader in art insurance and the art of living, AXA ART assists collectors in matters of protection and conservation. Its support for the prize illustrates its unfailing commitment to those who choose to live out their passion.
GUERLAIN, www.guerlain.fr
Art is ubiquitous in the Guerlain family, which has always patronized the most avant-garde artists of their era. The contemporary drawing prize created by Daniel and Florence Guerlain illustrates the creative audacity of this famous brand.
VOISIN CONSULTING LIFE SCIENCES,www.voisinconsulting.com
A consulting firm for the development of pharmaceutical, biotech and medtech products as well as regulatory strategy, Voisin Consulting helps innovative enterprises optimize the value of their product.  It operates in Europe (France, United Kingdom and Switzerland), the United States and India.
GROUPE ELYSÉES MONCEAU, www.elysees-monceau.fr
GROUPE PASTEUR MUTUALITÉ, www.gpm.fr
ARTPRICE, www.artprice.com
Partners
Le Salon du Dessin - Beaux-Arts de Paris - Château Seguin – Vodka Beluga – La Maison Champagne Ruinart – Rova Caviar Madagascar