UNITED STATES
Director: Jill Newhouse
4 East 81th Street
New York, NY 10028
Phone: +1 212 249 9216
Jill Newhouse is the fourth generation of her family to be an art dealer. Jill Newhouse Gallery was founded in 1980 and specializes in 19th and 20th century European and American works on paper.
The gallery exhibited mainly drawings of the XIXth century- Corot, Delacroix, Géricault, Rousseau, Millet, then it diversified with artists as Bonnard, Vuillard and Degas. Since 2010, the gallery has also shown works by contemporary artists.
Gallery director Christa Savino joined the gallery in 2004, after five years of experience as manager of an important paper conservation studio. The gallery has organized regular monographic exhibitions of artists such as Auguste Rodin (2011), Edouard Vuillard (2012), J.B.C. Corot (2012), Theodore Géricault (2014) and Auguste Herbin (2015). JNG are currently preparing with Mister Martin Dieterle and Madam Claire Lebeau le Catalogue Raisonné of the drawings of Corot.
The gallery participates in fairs in the United States in France and publish regularly catalogs.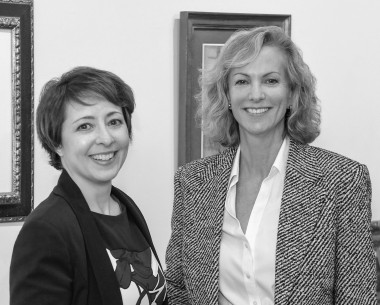 Jean François Millet
(1814-1875)
Sentier bordé d'arbres
c. 1866-1867
Watercolor and pen and black ink on paper laid down on paper laid down on card
4 7/16 x 6 5/8 in. (11.3 x 16.8 cm)
Stamped with initials lower right