FRANCE
Director: Corinne Kevorkian
21 quai Malaquais
75006 Paris
Phone: +33 (0)1 42 60 72 91
E-mail: kevorkian.paris@gmail.com
The Kevorkian gallery has its roots in 19th century Anatolia where the Kevorkian brothers were born and first started their activity as art dealers and collectors, which took them from Istanbul to Bombay via Tehran.
One of them, Carnig, went into exile in Paris where he founded his first gallery in the Hôtel Drouot district, before moving in 1923 to what is still the gallery current address, 21 quai Malaquais on the left bank of the Seine river.
The torch was taken up in 1963 by his daughter Annie, then from 2006, by his granddaughter Corinne, thus anchoring the history of the gallery in the long time of continuity, after that of uprooting and exile.
One of the favorite areas of the gallery, specializing in Ancient Near Eastern and Islamic Art, is that of miniature painting, that is to say manuscript painting, the production of which occupies a foremost place in the arts of Islamic civilization.
This art is also intimately linked to the family and professional history of the Kevorkian Gallery, whose many works passed through the hands of its representatives, as collectors, experts or dealers, have fueled and continue to enrich some of the most prestigious private and public collections in France and around the world.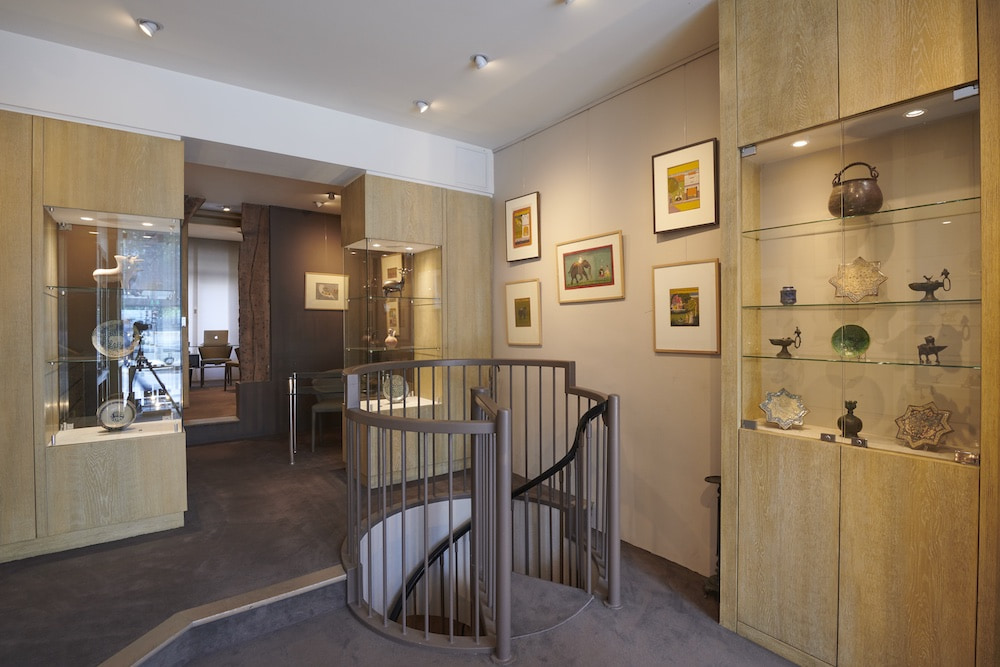 The gallery has participated on a regular basis for many years in major international events such as the Biennale, now associated with Fine Arts Paris, and TEFAF Maastricht.
Folio from a Polier album: portrait of a Mughal prince
Gouache, gold and ink on paper
Calligraphic panel on the back signed Hafiz Nur Allah
Painting: Mughal India, late 17th - early 18th century AD
Margins and calligraphic panel: Lucknow, late 18th century
Folio: 38 x 26,5 cm
Painting: 16.5 x 10 cm
Calligraphic panel: 19 x 12 cm