SPAIN
Director: José de la Mano

Although Old Master drawings by Spanish artists have only very recently become a subject of interest to international collectors, DE LA MANO has been active in Spain since 1995, advising numerous private and institutional collections on their acquisitions of works on paper.
Traditional art-historical opinion with regard to Spanish drawings has frequently repeated the notion that the brilliance of Spanish artists was exclusively confined to preliminary sketches for final compositions. However, through the series of catalogues Trazos de las Lucesand FECIT, which the gallery has regularly published since 2002, we have attempted to assist in refuting this widely extended but erroneous opinion. Employing rigorous criteria of attribution, conservation and provenance, these publications have presented an extremely large number of previously unpublished drawings by great Spanish artists and by foreign artists working in Spain.
In recent years the gallery's active focus on the study of the 16th- to 18th-century Spanish school has expanded to include another school that has been totally overlooked by the art market and art historians, namely that of the artists active during the colonial period in the various Spanish viceroyalties in Latin America.
As part of our committed intention to disseminate and internationalise knowledge of Spanish and colonial drawings, over the last decade DE LA MANO has regularly participated in the following fairs: Master Drawings London, Master Drawings New York, and more recently in London Art Week and Fine Art Paris.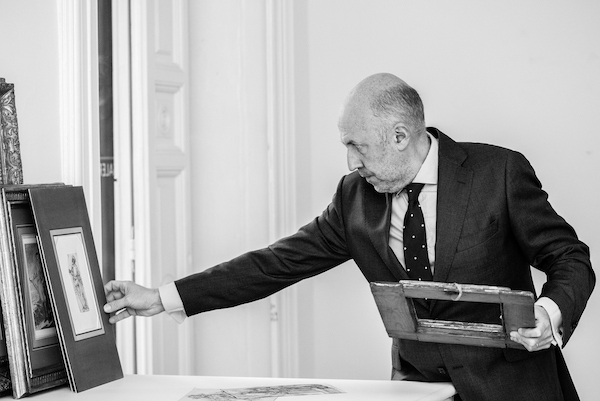 As a result of this activity we have sold important drawings to institutions closely associated with Spanish art, including the Museo Nacional del Prado, The Hispanic Society and the Meadows Museum, in addition to many other European museums such as the Museu Nacional de Arte Antiga, the Ashmolean Museum, the British Museum and the Musée du Louvre, and finally to institutions in the United States including the Detroit Institute of Arts, the Museum of Fine Arts Houston, the Morgan Library and the Getty Museum.
Antonio DEL CASTILLO
(1616-1668)
Study of Four Heads of Oriental Men
Sepia ink on paper
220 x 156 mm
Signed: "A.C.", in ink, centre
Provenance
England, Earl of Warwick collection
Madrid, private collection